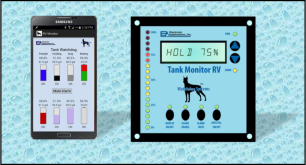 Electronic Applications, Inc. (EAI), Phoenix, AZ.  Introduces the Tank Watchdog RV ™, Tank Monitor System.
As seen at the RVIA Trade Show, EAI has introduced a highly reliable, innovative and feature-rich tank monitoring system developed targeting the Class A motor home. Not surprisingly; the product is being embraced by Class B and C motor homes as well as the fifth-wheel and luxury towable trailer manufacturers.
The Tank Watchdog RV, is a lower-cost version of the successful Tank Watchdog NG system used by industry leaders such as Liberty Coach, that has an impeccable industry reputation for delivering reliable, feature-rich tank monitoring to the Prevost conversion industries over the last 10 years.
Russ Churchill, EAI's President and Business director says " We have leveraged our expertise, electronic technology and 90% of our Tank Watchdog NG's (Prevost-Market product) firmware to create the Tank Watchdog RV ™ at a third the cost of our ultra-reliable, bus-conversion tank system.  The added benefits are the firmware is already battle tested, and contains most of the same feature-rich technology as it's big brother. This includes features such as Ethernet interfaces and a clean, usable phone application for both Android and Apple systems."
A few of the features and benefits are as follows:
Highly Reliable System – Utilizes ultrasonic sensing technology;  sensors never touch the liquid.  We have 10 years of tank monitoring experience in the Prevost Bus Conversion industry so we know what reliable means.
Versatile – Monitors up to 7 tanks and one battery bank.
Now you can Put Your Tanks in your Pocket – Android and IOS Phone Apps – Download for Free, Displays tanks and battery as a bar graph and a percentage. Battery is displayed as a bar graph and the voltage is displayed.
Always Know when a Tank is Low (or too full) –  Tank Alert™ rings your phone when tanks need attention.
Remote Battery Monitoring – Tank Watchdog RV will send you an email when your RV battery is low.
Intruder Alert – Tank Watchdog RV will notify you by email when the RV door is opened.
MSRP $795, including two Ultrasonic Sensors
Learn more about the Tank Watchdog RV ™ at www.eletronicapplications.com