Generator Watchdog NG – Monitor your generator from anywhere.
The generator Watchdog NG is currently used in Luxury Coaches interfacing to Mobile generators via SAE J1939 CAN bus.  The Generator watchdog can also interface to Charging Systems with RS485, RS232 and NMEA2000 Interfaces.  Our system can be customized to interface to any generator with a serial interface.  Our Ethernet interface provides a means of controlling and monitoring any serial communications based generator from anywhere in the world.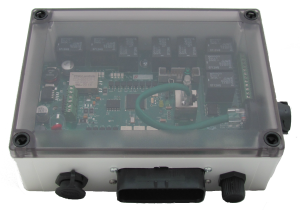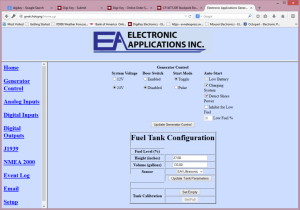 The Generator Watchdog™ NG is Ethernet enabled
Generator Watchdog™ Features:
Starts on low battery Condition—Shuts off when batteries are charged, and can be controlled by most charging systems or stand-alone.
Monitors and displays J1939 CAN Bus Parameters :

Generator RPM
Battery Voltage
Engine Hours
Oil Pressure *(1)
Coolant Temperature
AC Voltage
AC Frequency
Fault
Automatic Maintenance Notification—When it is time for maintenance the Generator Watchdog notifies by means of a pop-up on Crestron/AMX and/or by EMAIL.
Ethernet Enabled – Get remote access from anywhere— via built in diagnostic web pages – Stop, start, monitor and troubleshoot from anywhere your laptop connects to the internet, without loading special software.

Embedded Web Server allows access to the system Via any web browser
Built-in Fuel tank monitor with email notification on low tank
Maintenance alerts are automatically emailed when it is time for maintenance.
Stop and Starting of generator from remote locations.
Firmware updates from remote locations using web browser.
Seamless Interface to AMX, Crestron, or other monitor and control computer systems.
Fail Safe Controls—Can be controlled from hard-wired buttons as well, as backup to AMX, Creston failure.
Event Log File—For troubleshooting; all gen. control & faults are time and date stamped for retrieval later.
J1939 Fault interpretation—All faults displayed and EMAILED in plain English
Part Number WDNG-GEN-KIT  $1950.00 (us)
TANK WD NG BOXED KIT – Contains
(1) Generator Watchdog NG CPU – Part # WDNG-CPU-GEN
(1) 35 pin Automotive Connector, with pins and Shroud – Part # WDNG-CONN-AUTO35-KIT
(1) Ethernet weatherproof IP67 RJ45 Connector – Part # WDNG-CONN-ENET-RJ45WP
(1) Connector Kit, Plug 8POS Female #20 – FOR J1939 Connect   Part # WDNG-CONN-J1939
(1) 120VAC to 12V DC Transformer for shore power detection         Part # WDNG-GEN-XFMER12V
Call Russ Churchill for more information or to order  602 717-7480. Wholesale Only