Tank Watchdog RV is Here! 

The Tank Watchdog RV design is a pared down version of the Tank Watchdog NG which has been reliably serving the Prevost Conversion Industry for more than 10 years as the tank monitor of choice with companies such as Liberty Coach. The high-reliability feature-rich system is now available in a low cost version for the RV market.  The product was designed with Class A motor coaches in mind, but we have the attention of the class B and C motor coaches as well.  It is also a very good fit for luxury fifth wheel and high-end towable trailers.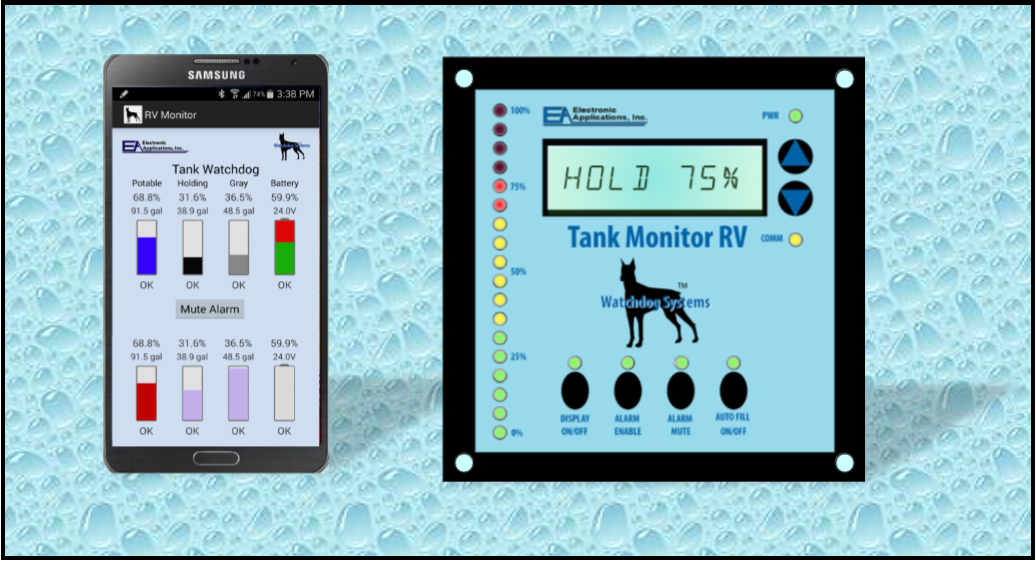 A few of the features and benefits are as follows:
Highly Reliable System – Utilizes ultrasonic sensing technology;  sensors never touch the liquid.  We have 10 years of tank monitoring experience in the Prevost Bus Conversion industry so we know what reliable means.
Versatile – Monitors up to 7 tanks and one battery bank.
Now you can Put Your Tanks in your Pocket – Android and IOS Phone Apps – Download for Free. Displays tanks and battery as a bar graph and a percentage. Battery is displayed as a bar graph and the voltage is displayed.
Always Know when a Tank is Low (or too full) –  Tank Alert™ rings your phone when tanks need attention.
Remote Battery Monitoring – Tank Watchdog RV will send you an email when your RV battery is low.
Intruder Alert – Tank Watchdog RV will notify you by email when the RV door is opened.
 Click Here for More Information