Tank Watchdog NG Details – The System in Detail
Monitor Board – Allows viewing tank Levels, Backlit LCD displays Tank type     and  percent full (%).  Allows viewing of up to 7 different tanks and one battery (Using Scroll buttons).
Color Bar Graph displays tank level
LCD display with backlight – Indicates tank type and % full
Supports up to 8 Monitor boards over a single cable
LCD Setup Menu
Autofill on/Off button
Adjustable Display Timeout and Brightness to save Power
Level Alarm can be Enabled for individual Tanks with Button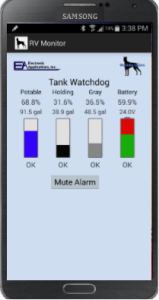 Phone Application (App)
Puts tank and battery levels in your back pocket
Runs in background using WIFI connection
Includes tank alarms
Uses a ring-tone you select to indicate when a tanks are full or empty.
Internet Connection Not Required, CPU must have direct connection to same router as WIFI
Powerful Ultrasonic Level Sensing  Technology
Many have said that they tried Ultrasonic sensors and they don't work; These sensor are extremely accurate and reliable and have been proven over years in the most expensive bus Conversion in the USA. They are expensive to build and are a large part of the cost of our system.
Low maintenance, High Reliability – Sensor does not touch the liquid.
Best Sensors Available
24V High-Power Touch-less Ultrasonic Sensors
Accurate to 0.1 Inch
For up to 40 Inch Tanks (Sensors for deeper tanks available)
Can also be used for Diesel Fuel
Ethernet Enabled System
View Tank and battery Levels using a standard web Browser in real time (No page refresh is required)
SMTP server sends email on active tank alarms.
Tank setup web pages
Built in diagnostic Tools for troubleshooting
Event Log that records events such as arming/disarming tank alarms, Power resets etc.. with time and Date Stamp.
CPU Firmware can be updated remotely Via the Web server
Central Processing Unit (CPU)
 Isolated ARM Cortex-M CPU for immunity to Most Surge
Ethernet Enabled – Web Server, SMTP, Phone App support
24 Volt operation
Waterproof enclosure and connections rated IP67
Waterproof Ethernet Connector
Automotive Connectors rated for high vibration
J1939 and NMEA2000 CAN busses
Automatic Fill Valve output
Crestron and AMX Ready
RS-422 interface with feedback for high reliability
AMX Starter Module Available on request
Crestron Starter Module Available on request
Control All aspects of the Tank Watchdog™ through Crestron or AMX except setup.
 Order the most reliable and feature rich Tank Monitoring System
Call Russ Churchill 602 717-7480